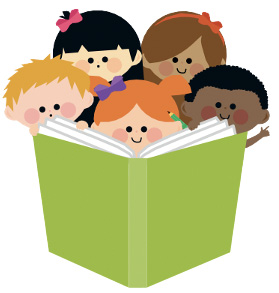 You are your baby's first teacher!
When you open a book with your baby you are opening the world.
Birth – 3 months
Your baby learns to understand language by hearing you use it. Talk to your baby as much as you can even if it seems pointless.
Talk:
Say your baby's name.
Talk while changing, bathing, and feeding your child.
Say the names of things that you use.
Use the same words often.
Sing:
Sings songs while you rock baby.
Say nursery rhymes with action, such as Pat-a- Cake.
Read:
Read Cloth or Board books to baby.
Point to and identify pictures in books.
Play:
Play touching games, pat baby, gently rub baby's arms and legs.
Play simple touching games "Where are your toes?" "Here are your toes"
Use mobiles over cribs at this age.
3 months – 2 years
Talk, Read, Play and Sing:
Identify colors.
Count Items.
Introduce animal sounds."The doggie says woof-woof."
Expand on single words your baby uses "Here is Mama, Mama loves you."
Read to baby. Point to pictures and ask,"What's this?"
Choose books that are sturdy and have large colorful pictures that are not detailed.
2 years – 4 years
Talk, Read, Play and Sing:
Keep reading to your child. Reread favorite books.
Read predictable books so that your child will begin to recognize repeated words and phrases.
Teach the alphabet song.
Put magnetic letters on your refrigerator. Ask your child to name letters as he plays.
Play games using the alphabet in books, traffic signs, billboards, and stores.